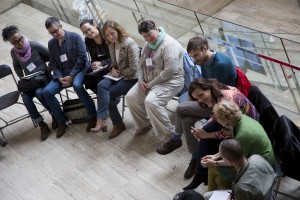 For our inaugural JTC Global Engagement Lab, EDGE invited funders from around the world to join us from November to April 2018 in a process of co-learning, collaboration, wisdom-sharing and practice building.
The group focuses on themes ranging from explorations of commoning, agroecology and food sovereignty to notions of buen vivir and municipalism. Starting with broad thematic areas such as these, they dig deeper with networks of peers, activists and civil society experts to enhance understanding of theoretical frames and to explore concrete, real world practice in different contexts. Throughout the six months, participants bring their learnings back to building philanthropic strategies for supporting systemic alternatives.
Meet the Global Engagement Lab Participants
From November 2017 to April 2018, an international cohort of funders will co-learn, collaborate and build strategies to actualize the positive impact philanthropy can have on systems change and a just transition to a new economy. The first cohort is composed by very engaged funders!
The first in-person meeting took place at La Bergerie, near Paris, in November 2017. The second in-person meeting will happen in New Orleans, right before the EDGE Forum, in April 2018.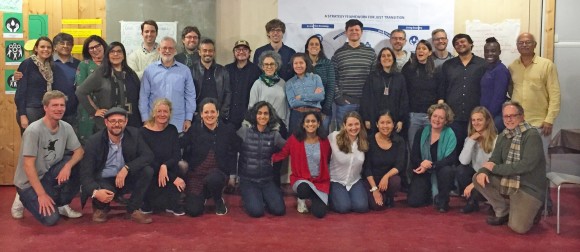 Rachel Freed – Unitarian Universalist Service Committee
Sanjay Kabir Bavikatte – The Christensen Fund
Cuong P. Hoang – Chorus Foundation
Sofia Arroyo – Sacred Fire Foundation
Kiti Kajana Phillips – Open Society Foundations
Rajiv Khanna – Thousand Currents (Formerly IDEX)
Philippe Mayol – Fondation Terre Solidaire
Antonis Schwarz – Guerrilla Foundation
Martin Modlinger – Renewable Freedom Foundation
Michael Mazgaonkar – Global Greengrants Fund
Vivian Paulissen – European Cultural Foundation
Tin Gazivoda – Open Society Initiative for Europe (OSIFE)
Jovanna Gracia Soto – Grassroots International
Conniel Malek – True Costs Initiative
Nicolas Krausz – Charles Leopold Mayer Foundation
Maria Amalia Souza – CASA Socio-Environmental Fund
Augusta Hagen-Dillon – Prospera
Cara Mertes – Ford Just Films
Ryan Canney – Wellspring Advisors
Erika Mandreza Sales – Mama Cash
Angela Martinez – International Funders for Indigenous People
Elizabeth Barajas-Román – Solidago Foundation